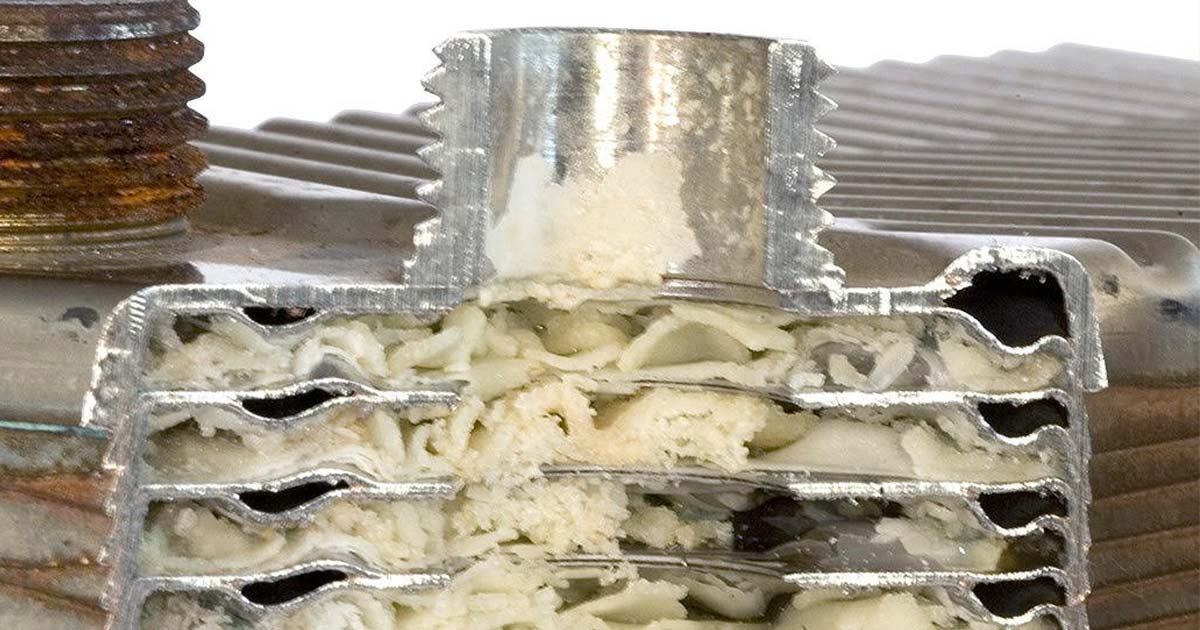 Boilers Become Less Efficient Over Time? – Boiler Limescale
Boiler Limescale
There are many reasons why a boiler may become less efficient over time.  One of these reasons is build up of boiler limescale deposits within pipework and on heat exchangers.
Firstly limescale is one of the most common causes of reduced heating efficiency.  With studies from British Water showing that just 1.6mm of scale build up can cause a loss of up to 12%. Although this issue is somewhat bespoke to locations with hard water (where the water contains 300+ parts per million).  It is a widespread issue within the UK as 60% or more of homes are located in a hard water area.
How Does Limescale Build Up Within A Heating System?
Limescale is formed when minerals such as Calcium and Magnesium in your water precipitate and stick to surfaces. Limescale formation happens at a faster rate in heated water (as when water is heated, it is less able to hold on to those scale-forming ions).  Making heat exchangers and other heating elements in the home, susceptible to scale build up.
Years of scale build up on heating systems and pipework can eventually cause the insulating of heating elements.  Leading to failure of the element entirely. So much so that a water heaters lifespan can sometimes be as much as halved by limescale build up. As you can imagine this can be costly, often leading to appliances hot water heaters needing repair.  Or even replacement due to this loss of efficiency.
What Are The Effects Of Limescale Build Up On Your Wallet?
With the costs of energy rising rapidly, keeping your heating system running efficiently is becoming more important than ever. From the beginning of April 2022 energy regulator Ofcom confirmed that the price cap on energy companies will rise by 54% from £1,277 to £1,971.  With further increases becoming more likely, as costs continue to soar.
Scale build up harms the efficiency of heating systems, by effectively insulating heating elements. This means that you pay to heat the thick build up of limescale before you start to heat your water. Studies show that for every 200L of hot water there was an estimated 4% increase in energy costs.  Where heating elements were scaled.
Will A Water Softener Help Prolong The Life Of Your Hot Water Heater?
Installing a Water Softener at the mains point of entry to your house not only prevents scale build up within your pipework and on heat exchangers. (such as in your kettle and other appliances) But it can also help remove existing boiler limescale build up over time. It is key to remove hardness forming ions before they reach your hot water heater to prevent scale formation.  Which is important as limescale is an insulator of heat as opposed to a conductor. Moreover time this affects both efficiency and lifespan of hot water heaters.
Sealed
For closed loop heating systems (like your central heating) it is recommended that they should be filled with mains water. (easily achieved by utilising the bypass feature on your water softener) And dosed appropriately with inhibitors that prevent scale build up in the system. Particularly where some boilers may have an aluminium heat exchanger.
Once the central heating loop is filled and dosed accordingly, feeding your combi, system or regular boiler with softened water.  It is an effective way to diminish the effects of hard water on your home. Avoiding maintenance costs like replacing hot water heater components, taps, shower heads and to prolong the life.  Of hot water using appliances like washing machines and dish washers.
Boiler Limescale Build Up
Scale build up on heating systems is bad for the heating elements.  Your wallet and the environment. Why the environment you ask? Because more energy is required to achieve the same heating output the carbon footprint of a scaled hot water system will be far greater.  That compared to a non-scaled system due to the additional fuel required to heat the water.
The answer
Firstly try to deal with this issue is to remove the hardness from the water before it reaches the system. By installing a water softener or water conditioner at the point that mains water enters your home.
Don't let Boiler Limescale be a problem for your boiler or system