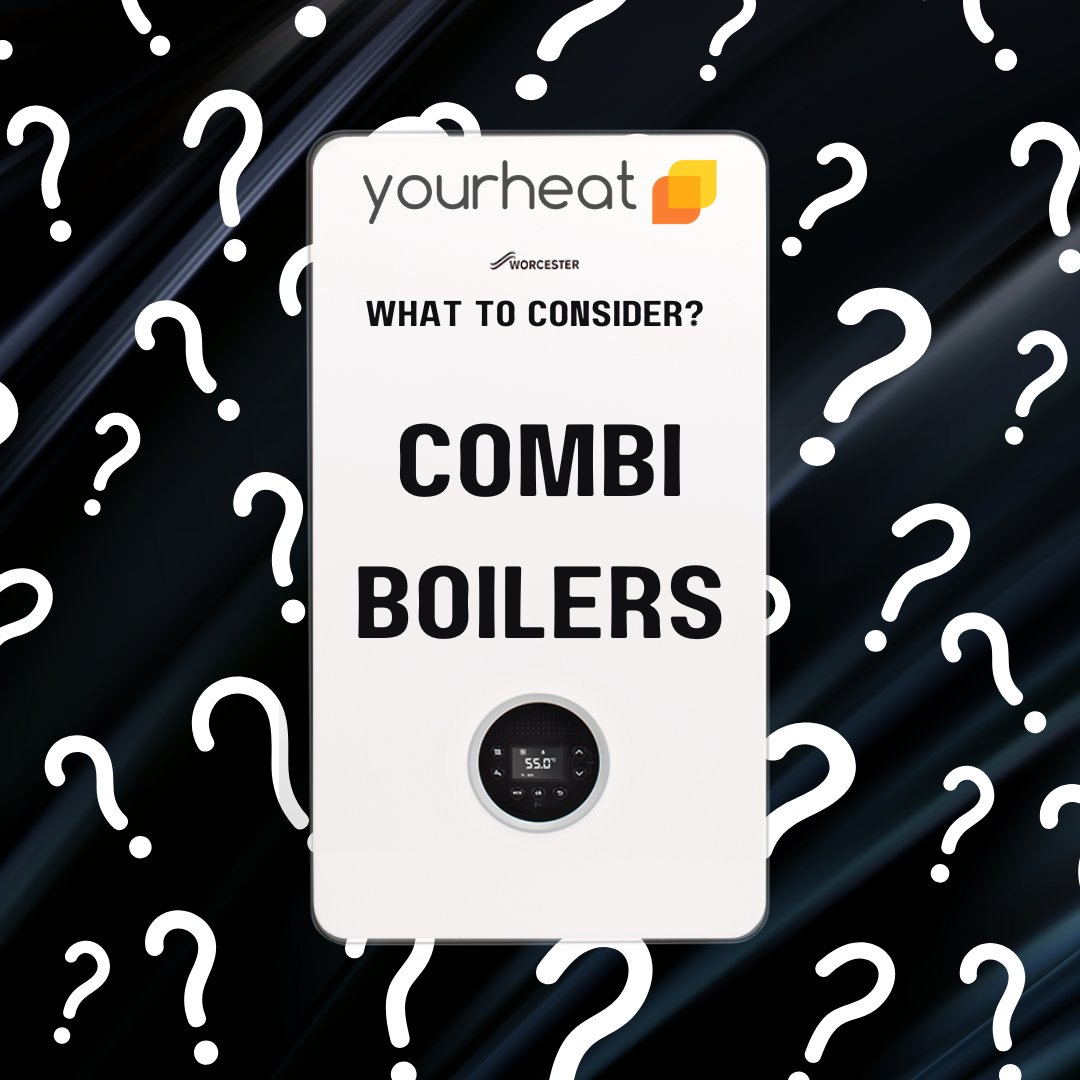 Combination Boiler – Where to start
There are many factors to consider when choosing the right boiler for your home.  There's an awful lot of choice, brands, variables to consider, not to mention opinion, so here's ours…
If you're replacing an already existing
Combination boiler, a safe bet if you've been happy with the performance, is to replace like for like. "What's a like for like?".
Many boilers will have on them a sticker or badge, letting you know what model of boiler you have or even a serial number (24i Junior, 28Cdi, to name but a few, you get the picture).
Simply match the kilowatt rating of your boiler and look for something similar.  For more info on how to help, click here and we can have an engineer help you through this?
If you're moving away from a tank fed system (or conventional system) and are considering a Combi boiler or Combination boiler.
Here are some things that you should take into account when choosing whether a combi boiler is going to be right for you, your home and your lifestyle.
A big key factor
A Combination Boiler is your cold water main flow rate and pressure (your incoming cold water supply).
This is what determines how large your new combi can be or whether you could even have a combination boiler at all! If you have a shared main.
Our suggestion
At this time it is to probably avoid a combination boiler altogether.  As at peak times you may find fluctuating cold water performance and negatively impact a combination boiler's performance.
If you have a low flow rate at your kitchen tap on the cold side, there is a chance you may not have the pressure or flow to fully support a combination boiler.
At this time we would urge you to have this checked with a site survey.
Mainly to determine whether there are some underlying factors as to why your flow rate is low and to check that it is suitable before committing to a combination boiler.  You can do this online here.
Consider how far away the boiler will be from hot outlets.
As the boiler will be supplying your hot water needs and vast draw offs.  Leading to lengthy wait times for the water to arrive, sadly, with Combi boilers, it's not always "instant hot water".
Lengthy draw offs are a typical complaint if a combi boiler is sited incorrectly or without consideration for this.
Come On, Get On With It…
Now enough about the doom and gloom, Combi boilers really do suit a modern style of life, many of us can work shifts or have hectic lifestyles.  It's not always possible for us to time exactly when we're going to need or want hot water.
This is where combination boilers really come into their own, with on demand hot water it's ready when you are.
Do you have what it takes? – Combination boilers need good water flow and pressure
If you have the mains to support a Combi boiler it's cited correctly. They are a great addition to any home.
Some Combi boilers now are sized in such a way you can achieve incredible hot water performance, from a standalone appliance, again, water pressure/flow permitting!
Now for the brands, there are many boiler brands to choose from:
– Worcester Bosch
– Vaillant
– Ideal
– Viessmann
– Glowworm
– Alpha
– Baxi
– Potterton
Above all, do your research, because again, there are an awful lot of opinions out there.  We're big fans of the Worcester Bosch range as we're accredited service partners and installers.
Many will have varying warranty's/guarantees (read the terms and conditions surrounding these warranty's and guarantees carefully).
Boiler Budget
Firstly we know is something you also have to consider, as many of the brands above, amongst others really do vary in price/cost. All we can say here, do your research and we find that the more reputable.
Sadly more expensive boilers, tend to come with larger warranty's/guarantees and better levels of service if you require assistance once the boiler is installed.
We hope you found this helpful, please do let us know what you think, you can also drop us an email by clicking here.
Thanks for listening