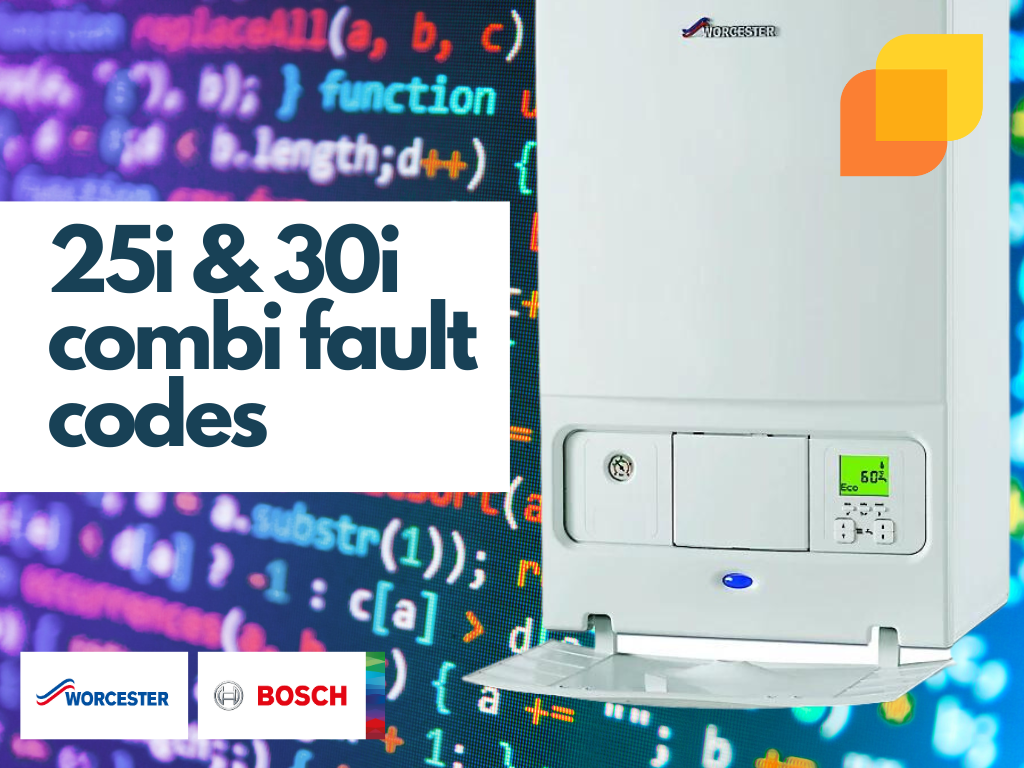 Fault Codes Worcester i Combi ErP
Worcester 25i Fault and Worcester 30i Fault: Insights and Solutions
Our Introduction:
The Worcester 25i and Worcester 30i are popular models of boilers that serve as vital components in many homes and businesses. However, despite their reliability, these boilers may encounter specific faults, requiring prompt attention and resolution. This blog aims to provide a comprehensive understanding of the Worcester 25i and Worcester 30i faults, highlighting their causes, potential solutions, and the importance of regular maintenance.
For a Boiler Service or New Boiler click on the orange
Perform a Factory Reset
Before calling an engineer, it's always recommended that you perform a reset of your boiler, heres how:
To reset all settings on Boiler settings and Weather sensor settings back to the factory defaults:
Press the and buttons for approximately 8 seconds to enter appliance menu function.
Press the button or the button to reset all the menu settings to the factory settings.
This is confirmed on the display with a tick and the word "Reset". After approximately 4 seconds the display returns to main screen.
1. Introducing the Worcester 25i Fault:
The Worcester 25i Fault encompasses a range of issues that may hinder the optimal performance of this boiler model. It is essential to recognise these faults early on to prevent further damage and ensure a comfortable living environment.
2. Common Causes of Worcester 25i Fault:
Understanding the root causes of the Worcester 25i Fault is crucial for effective troubleshooting and prevention. Several factors, including faulty heat exchangers or pressure sensors, gas valve issues, or electrical circuit problems, can trigger this fault.
3. Troubleshooting Worcester 25i Fault:
Addressing the Worcester 25i Fault requires prompt action to restore the boiler's functionality. By following a systematic approach, including checking for pressure fluctuations, inspecting the diverter valve, or cleaning the system's filters, many issues can be resolved swiftly.
4. Introducing the Worcester 30i Fault:
Similar to the Worcester 25i, the Worcester 30i boiler may encounter specific faults that demand immediate attention. Proper identification of these faults will ensure efficient repairs and prevent inconvenience.
5. Common Causes of Worcester 30i Fault:
To effectively troubleshoot the Worcester 30i Fault, one must identify its potential causes, which may include problems with the ignition system, sensor malfunctions, or boiler blockages. Timely detection and intervention are crucial to avoid further complications.
6. Troubleshooting Worcester 30i Fault:
Resolving the Worcester 30i Fault starts with determining its underlying issues. Regular maintenance, thorough inspections, and proper cleaning techniques play pivotal roles in preventing and rectifying common problems associated with this boiler model.
Conclusion:
The Worcester 25i and Worcester 30i boilers are reliable heating systems. However, understanding and promptly addressing faults is pivotal to their continuous operation. By familiarising oneself with the common causes and effective troubleshooting techniques discussed in this blog, homeowners and professionals alike can ensure enhanced performance and prolonged lifespan of these boilers. Regular maintenance and professional assistance are paramount to avoid downtime and maintain a comfortable living or working environment all year round.
FIND US ON FACEBOOK