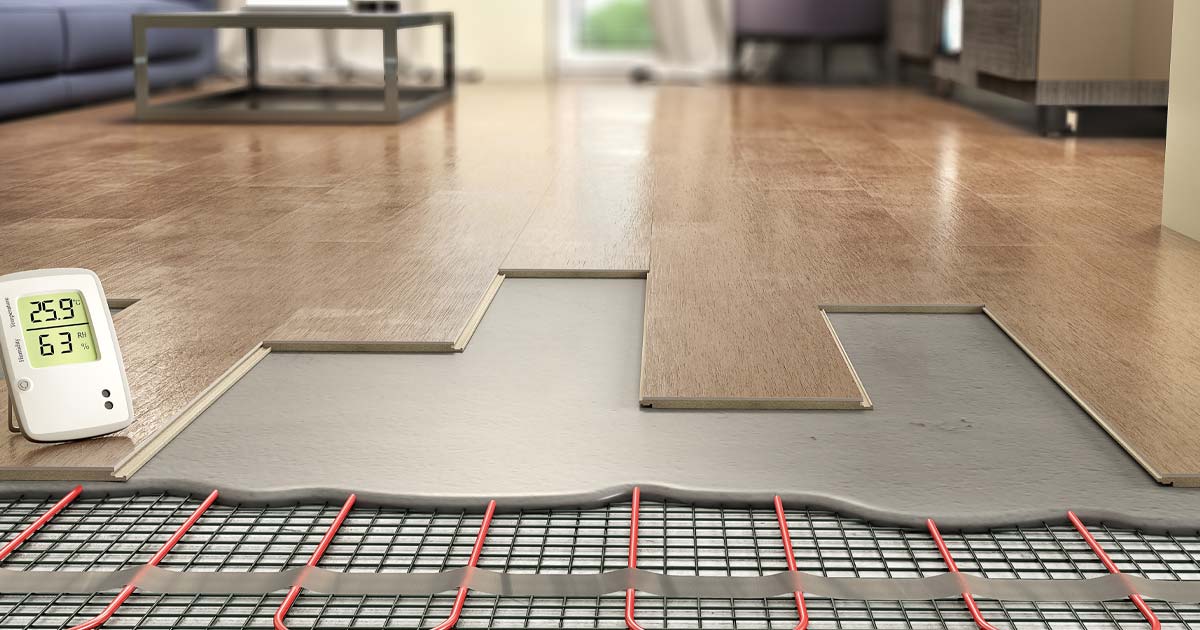 Underfloor Heating – Yay or Nay?
Did you know the Romans invented the concept of underfloor heating? That's right, 2,000 years ago, people in private villas and public baths enjoyed the radiant warmth. UHF (underfloor heating) can make your feet happy but also add to the overall comfort of your home. Compared to traditional radiator systems, underfloor heating won't leave a single cold spot in that room. Is this option really an energy-efficient alternative or just a buzz? Your Heat experts explain this topic in detail below.
Underfloor Heating Simplified
Underfloor heating, as you can guess, warms up your home from the flooring. Either cables or pipes are installed in the floor, depending on whether you want to use the electric or warm water method.
You are probably wondering if you would have to dig up your floor to install UHF. In a nutshell – no. You can have it laid directly over the floor. And don't worry, installing UHF won't add height to your floor (using a low-profile system will add around 15mm in total). On the other hand, you can have the pipework fitted into a layer of screed (the best option for new builds and extensions).
Installing UHF is, most of the time, a breeze for most homes in the UK, and it causes minimal disruption. Yet, although UHF has many pros, there are a few cons to this system. Here are both sides explained.
Underfloor Heating Pros
Both electric and water-based UHF systems provide constant heat from the floor up. However, with electric UHF, you have to install wiring and with water UHF, pipes to generate heat beneath the floor. Either way, UHF is way more energy efficient than traditional radiators as you don't have to run the system at a temperature higher than 29 degrees to heat space in a short time span. UHF systems consume less energy and reduce energy bills, big time.
UHF systems take very little time to install (1-2 days), and the process is simple and straightforward as well. Whether you are renovating, retrofitting, or building a new home, these systems are suitable.
If you want to have a water-based UHF system installed, make sure your boiler is robust enough and whether it has the capacity to cope with the demand. Your Heat is among the best boiler installation and service companies in the UK. We can suggest the right type of boiler for your home or have the existing one fine-tuned so it can manage this new type of heating.
Once you have underflooring heating installed, there's very little to no maintenance that you should need to invest in it. Annual servicing is, most of the time, more than enough to keep the system working properly.
Underfloor Heating Cons
Underfloor heating installation costs depend on the system you choose, the fee for your installer (plus the fee for a qualified electrician/plumber). UHF comes at a higher install price, yet it can save a lot of money in the long run.
Installing an underfloor heating system may make your floors slightly higher. If you are building from scratch, this won't be a big deal. But be careful when doing renovation and retrofitting projects. Opt for a system that won't add more than 3-16mm to the existing floor height.
Summary
Underfloor heating is one of the most energy-efficient and safest types of heating systems. If you think it's about time to ditch traditional radiators, we have your back. Your Heat can supply and install the right type of boiler for your water-based UHF. Contact us today or click here to get a free instant boiler quote!