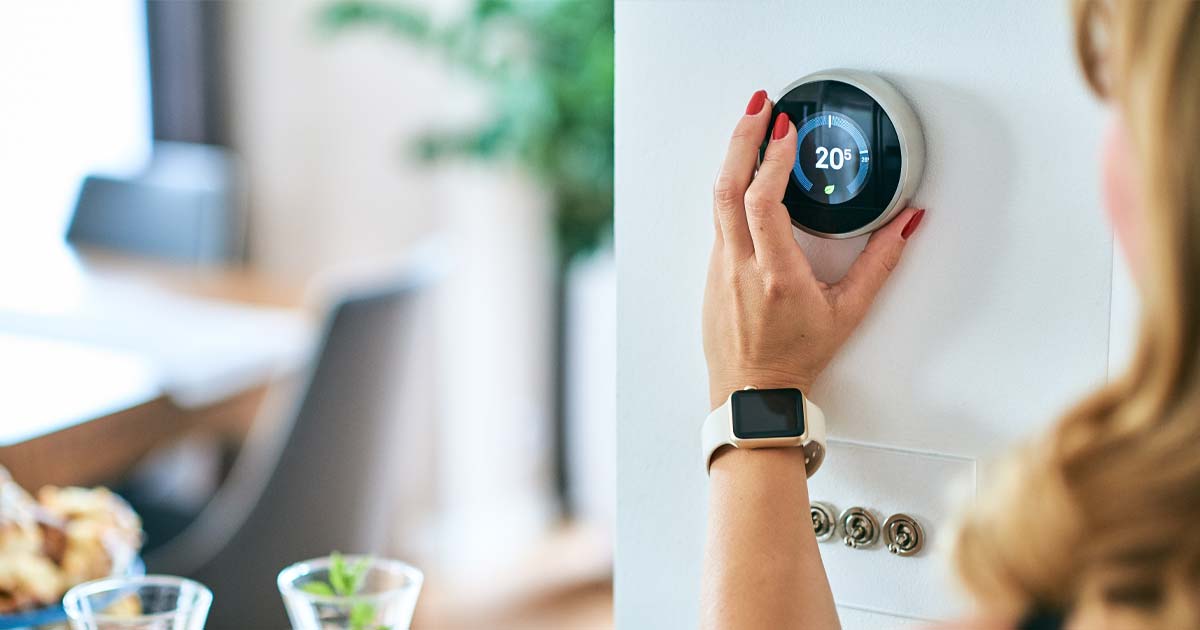 Everything About Room Thermostat Temperature
Most homeowners are not quite sure about the temperature they should set their thermostats to (Smart, wired or wireless room thermostat. They simply set it to their personal preference or leave the heating on and set the temperature to consistent. Why is it important to find a sweet spot here? Depending on your thermostat settings, your home will be more or less cosy and your utility bills will be higher or lower. So, if you want to minimise energy consumption but still enjoy a comfortable home, here are some tips about boiler-powered central heating and thermostat temperature settings.
How Does a Room Thermostat Work?
A room thermostat turns the heating on when the air temperature in the room falls below the temperature you set, and vice versa – it turns off when the desired temperature is reached.
Ideally, your thermostat should be located away from the boiler and other appliances (TVs, electric fires, lamps) that can interfere with its temperature sensing capabilities. Also, try not to cover the thermometer with curtains or block it with furniture, because this can prevent it from working properly. The room thermostat should be installed in a room you spend the most time in (e.g living room).
How Does a Mechanical Boiler Timer Work?
With mechanical timers, you can run your central heating system in 3 ways: the boiler turns on and off at the times you set it, the boiler is on and is providing heat, or it is turned off. This type of timer comes with a large dial you can turn to set the on and off time. However, it doesn't affect the temperature boiler gives off. You still need a thermostat or temperature control for that. Also, mechanical timers turn on and off at the same time each day so you don't have the flexibility of a smart thermostat or a programmer.
Heating and Hot Water Controls
Some boilers come with thermostatic mixing valves that separate hot water and heating controls and regulate water temperature to prevent scalding. This way, you can heat the house by simply setting a slightly higher temperature of the water. Hot water running through radiators will ensure a pleasant temperature in your home. The ideal water temperature during winter is 27° and 18° in summer.
Zoned Heating
Zoned heating is most efficient as it allows you to set individual temperatures for different rooms via your room thermostat. Typically, you control the temperature via a smart thermostat hard wired or wireless room thermostat, even when far away from home. If you use a system like this, set the temperature to 19 to 20° during the day and 16 to 19° in the evening. For babies rooms, set the temperature between 16 and 20°, and around 21° for rooms where older people spend most of their time. Zoned heating can help reduce your energy consumption. Simply lower the temperature by 1° and you'll see a significant difference in your bills for the next month.
Summary – Room Thermostat, Wireless Room Thermostat
You can always stick to your habits and preferences when adjusting your thermostat (wireless room thermostat or wired thermostat) temperature. If you want to save more, simply set the temperature closer to the outside temperature. However, if you want to ensure comfort in your home without paying a fortune each month for energy bills, have a new boiler with smart temperature controls installed. Our Gas Safe engineers can help with all your questions. Contact us today and get an instant boiler quote to keep your home cosy and save money at the same time.