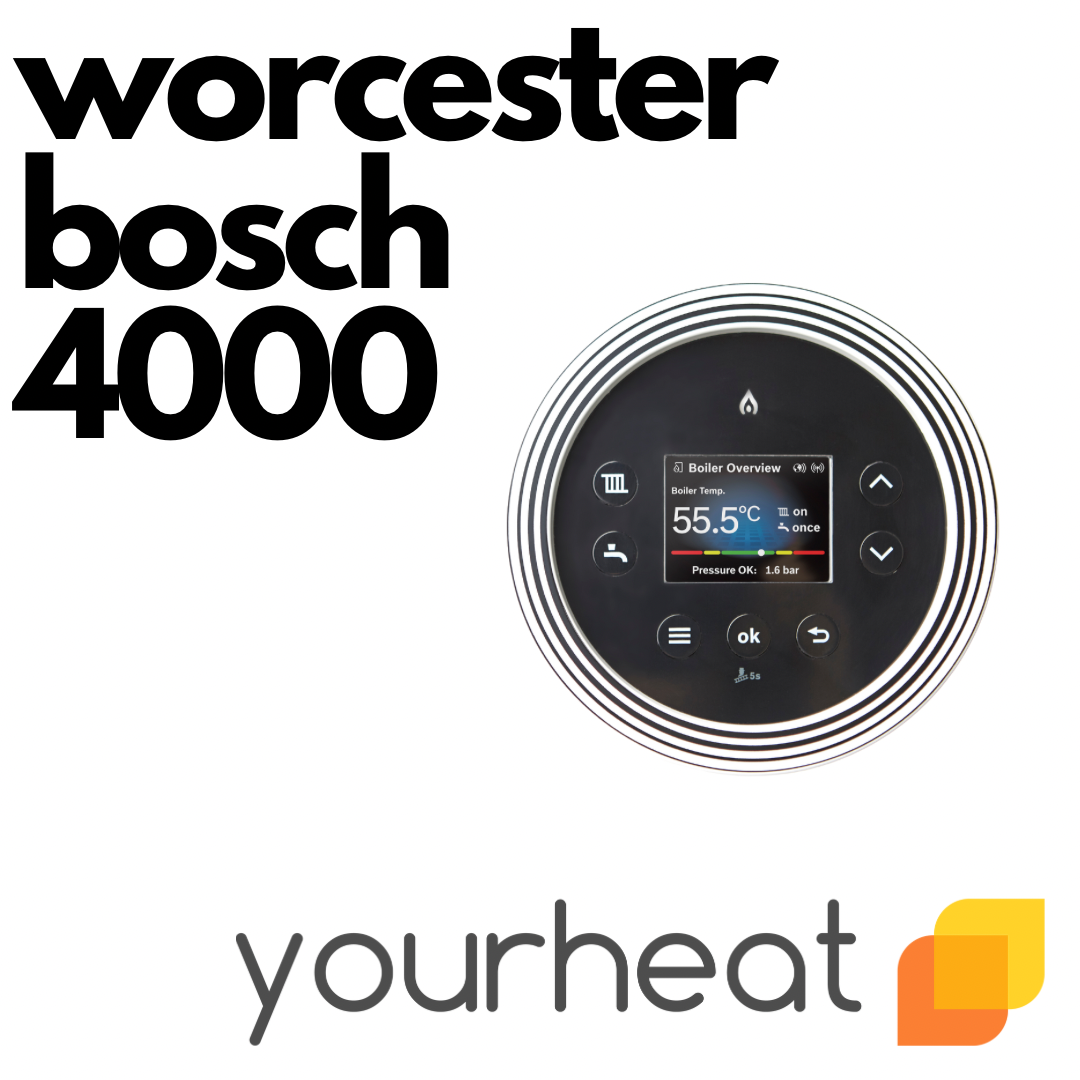 The Ultimate Guide – Worcester Bosch Greenstar 4000
Introducing the Worcester Bosch Greenstar 4000: The Ultimate Guide
In the realm of home heating and hot water systems, the Worcester Bosch Greenstar 4000 stands tall as a pinnacle of excellence. With an unwavering commitment to reliability, efficiency, and innovation. Worcester Bosch has consistently delivered superior products, and the Greenstar 4000 is no exception. This ultimate guide aims to shed light on the myriad benefits and features this prestigious model offers.  Providing homeowners with an informed understanding of this cutting-edge solution.
Energy Efficient Boiler
At the heart of the Worcester Bosch Greenstar 4000 lies its exceptional energy efficiency. Designed with the environment in mind, it effortlessly optimises fuel consumption.  Reducing energy waste and lowering greenhouse gas emissions. As a result, you can not only experience enormous cost savings in the long run but also contribute to a sustainable future. The Greenstar 4000 also boasts an impressive efficiency rating.  Ensuring the utmost performance and value for its users.
Reliable and durable
Equally noteworthy is the Greenstar 4000's reliability and durability. Additionally, meticulously engineered and constructed using high-quality components.  This system has been built to effortlessly withstand the test of time. Worcester Bosch's renowned engineering prowess ensures that homeowners can enjoy uninterrupted comfort for years to come.  Free from the worries of unexpected system malfunctions or costly repairs.
User Friendly
Also what sets the Greenstar 4000 apart from its competitors is its user-friendly interface and advanced technological features. Intuitive controls and a clear display, adjusting and monitoring system settings has never been easier. Furthermore, compatibility with Worcester Bosch's Greenstar Intelligent Filling System and Control smart thermostat allows for effortless remote control.  Furthermore allowing monitoring of the heating and hot water system from anywhere, at any time.
Safety First
Home safety is of paramount importance, and Worcester Bosch understands this. The Greenstar 4000 is meticulously designed to ensure maximum safety with features.  Overheating protection, frost protection, and an innovative low-energy pump. These measures provide homeowners with peace of mind.  Also knowing that their loved ones and property are safeguarded against potential hazards.
Easy to Install
Installation and maintenance is a streamline processes with the Greenstar 4000. Worcester Bosch's extensive network of highly skilled and trained engineers can efficiently install this system.  Guaranteeing optimal performance and compliance with industry standards. Moreover, the manufacturer's commitment to after-sales service ensures that regular maintenance and servicing is conveniently scheduled.  Extending the lifespan of the system and maintaining its peak efficiency.
Worcester Bosch Greenstar 4000 is a remarkable
Conclusion?  The Worcester Bosch Greenstar 4000 is a remarkable heating and hot water solution that exceeds all expectations. Its unparalleled efficiency, reliability, advanced features, and commitment to safety make it a standout choice for homeowners seeking unparalleled comfort and peace of mind. With Worcester Bosch's unrivaled expertise and after sales service, the Greenstar 4000 proves to be more than just a product.  Also a worthy long-term investment for a truly comfortable and sustainable home.