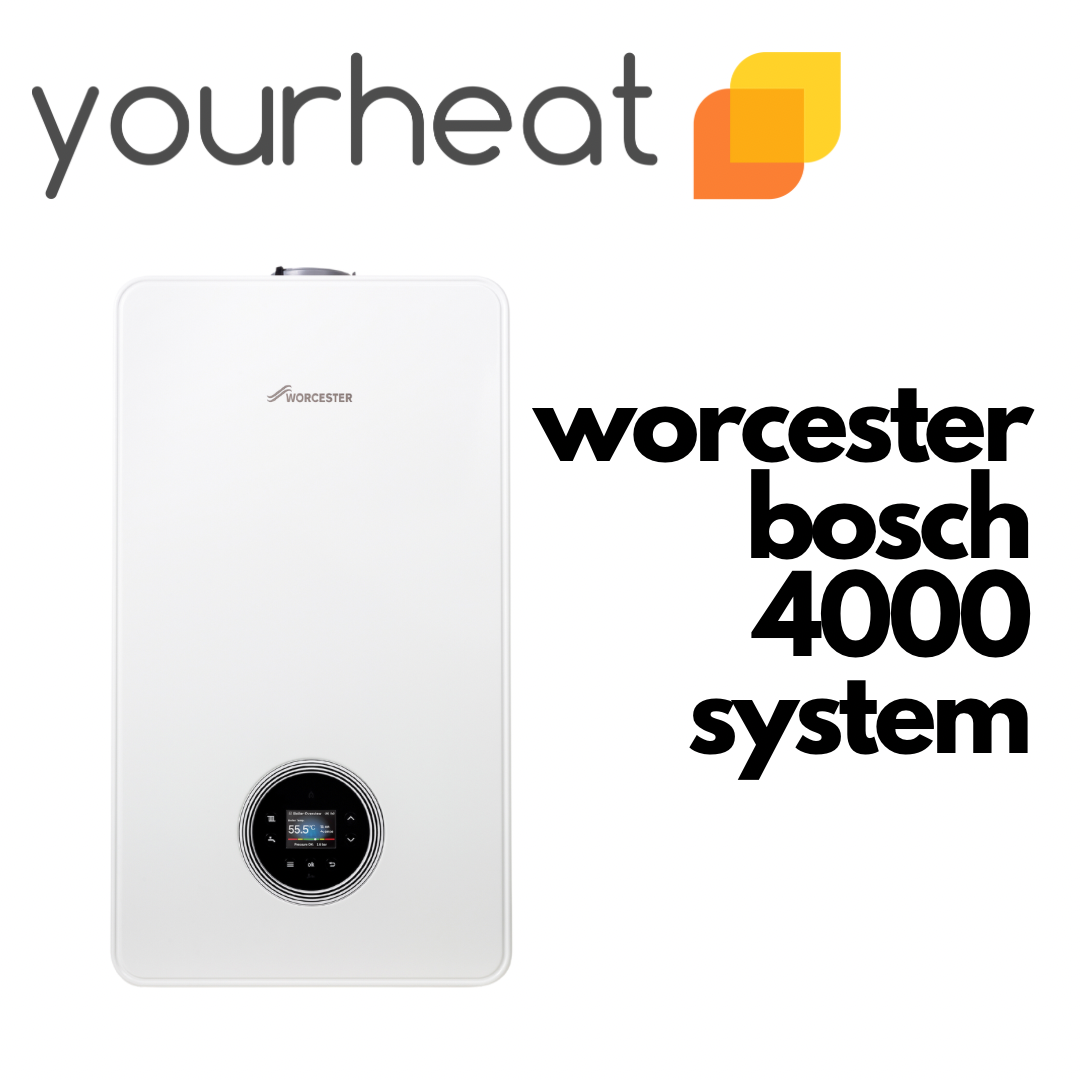 Worcester Bosch Greenstar 4000 System Boiler
The Ultimate Heating Solution: Unveiling the Worcester Bosch Greenstar 4000 System Boiler
Introducing the Greenstar 4000 System Boiler
Are you ready to experience the pinnacle of heating technology? Look no further than the Worcester Bosch Greenstar 4000 System Boiler. With a real emphasis on cutting edge features and unparalleled performance, this boiler is set to revolutionise the way you warm your home.
Need a new boiler?  Get started with an instant boiler price in UNDER 30 SECONDS HERE
The Stats
– Between 7-10 years guarantee 
– Noise Level: 45 dB
– 4000 System Dimensions: Height 724mm x Width 400mm x Depth 310mm
– 12kw, 15kw, 18kw, 21kw and 24kw Heat Outputs
– Max Flue Length 12m (100mm) 21m (125mm)
– Available in Gas & LPG
Incredible Efficiency for an Eco Friendly Home
Above all, the Greenstar 4000 System Boiler takes energy efficiency to a whole new level. Its advanced condensing technology ensures maximum heat extraction, reducing energy waste and your carbon footprint.
Optimal Comfort with Intelligent Controls
Say goodbye to manual temperature adjustments. In fact the Greenstar 4000 System Boiler comes equipped with intelligent controls, allowing you to effortlessly personalise your home's heating to match your lifestyle and preferences.
Compact Design, Maximum Convenience
Are you tired of cumbersome boiler installations? The Greenstar 4000 System Boiler boasts a sleek and compact design, perfect for modern homes where space is at a premium. Its small foot print ensures hassle free fitting and easy integration into your living spaces.
Improving Performance with Internal Pump and Expansion Vessel
Then forget about additional components – the Greenstar 4000 System Boiler features an internal pump and expansion vessel, enhancing performance and efficiency. This integrated solution guarantees smooth water circulation and keeps the system pressure in check.
Silent and Reliable Heating with Low Noise Levels
Next, no more disruptive boiler noises disturbing your peaceful home environment! The Greenstar 4000 System Boiler operates with minimal noise, providing you with uninterrupted comfort and blissful silence.
Unparalleled Safety Features for Peace of Mind
Furthermore, when it comes to your family's safety, compromise is not an option. The Greenstar 4000 System Boiler incorporates a range of safety features, ensuring worry free operation and protecting against potential hazards.
Easy Maintenance and Servicing for Longevity
In addition, maintaining your boiler has never been easier. The Greenstar 4000 System Boiler, designed for hassle free maintenance, reducing downtime and ensuring optimum performance year after year. Regular servicing is a breeze, increasing the longevity of your investment.
Unbeatable Durability and Quality Build
Investing in a Worcester Bosch product guarantees the highest quality. The Greenstar 4000 System Boiler is built to last, constructed with robust materials and designed to with stand the test of time, providing you with reliable heating for many years to come.
Topping It Off with Excellent Customer Support
Moreover, Worcester Bosch has an exceptional customer service reputation. Should you ever require assistance or have any questions, their team of experts is always ready to help, ensuring your experience with the Greenstar 4000 System Boiler is nothing short of excellence.
Embrace the Future of Home Heating with the Greenstar 4000 System Boiler
Lastly, Investing in a Worcester Bosch Greenstar 4000 System Boiler is an investment in your comfort, convenience, and the environment. Its unparalleled efficiency, intelligent controls, compact design, and safety features make it the ultimate choice for modern homeowners. With Worcester Bosch's commitment to quality and customer support, you can rest assured that you are choosing the best heating solution available. Embrace the future of home heating and make the Greenstar 4000 System Boiler a part of your smart and sustainable home.
For help with any of your heating, plumbing and boiler needs, get in touch today 01732 622990 or complete our contact form