"
Combi boilers are great for providing additional space within your home, it requires no tanks, freeing up space within lofts and cupboards.
"
— What is a Combination Boiler?
A combination boiler or "combi" boiler as more commonly known, is a mains fed appliance, directly connected to your cold mains water supply. A combi provides instantaneous hot water on demand to all of your hot water outlets. (flow rates vary depending on boiler power and your cold water supply) Without the need for a hot water cylinder.  Which also makes the combi boiler a popular choice with homeowners and landlords.
Moreover, we thought we'd help, by listing some of the boilers' features and benefits.  Along with some of its limitations, which should be considered when choosing a combination boiler for your home.
Space Saving:
Combi boilers are great for providing additional space within your home, it requires no tanks, freeing up space within lofts and cupboards.
Instantaneous Hot Water
As mentioned already, the ability to have instantaneous hot water on demand.  Simply turning on a hot tap, triggers the boiler into action, sending unlimited hot water on its way, any time, day or night.  Perfect for our flexible modern lifestyle.
Mains Pressure:
Increased flow rate, pressure and performance.  If a combination boiler has an adequate mains water supply, it can result in impressive shower and bath performance, without the need for a pump.
IMPORTANT NOTE:
Water pressure and flow should be measured/recorded prior to a combination being installed.  Failure to do so, can result in a below par performance.
Save Money:
With hot water only being heated up when required, there is no large store needlessly being heated if not required resulting in reduced fuel consumption.
Peace of mind:
Most leading boiler manufacturers Worcester Bosch, Vaillant, Ideal etc. offer large Guarantees/Warranties (subject to annual servicing and manufacturers requirements being met at installation).
This is especially useful for combination boilers, as most if not all of your mechanical heating and hot water components are located within the boiler itself.  So your only costs in guarantee will probably be just annual servicing costs.  They'll be no more expensive call out charges and repairs! All the more reason to consider one of the manufacturers that offer a lengthily guarantee period.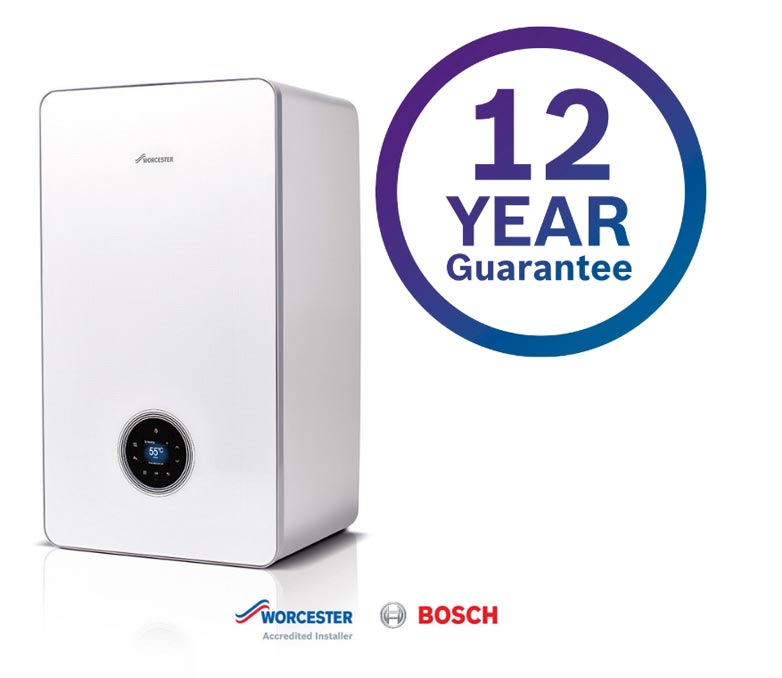 There are some limitations to a combination boiler you may wish to consider.  A conversion to a combi boiler may require a new larger gas pipe which will add to the cost of an install. This is only due to the way in which a combination boiler heats up hot water instantly which uses more gas quickly.  Additionally still usually more efficient than heating a hot water cylinder.
Catch our FLOW?
Flow rates will reduce per tap as more as opened simultaneously. So a combi boiler is not usually suitable for 3+ bathrooms. There are however 'storage' combis that may be a better fit if room can not be found for a cylinder.
Location is KEY
Occasionally depending where a combi is installed there can be a long wait for hot water to arrive at an outlet.  So location is an important factor to reduce the time taken for the hot water to arrive and the amount of waste cooler water.
We hope you found this helpful, fitted correctly, combination boilers are a great addition to many homes, please enquire today for more helpful information.
Your Heat